ODDBALL CREATIVE
Staying up-to-date with technology's current trends and best practices is crucial nowadays, and websites are no exception. So, let's take a look at one of the most important factors determines whether your website makes it or breaks it:
Mobile-First Design
Mobile traffic originally overtook desktop traffic back in October of 2016, having a ratio of 51.3% to 48.7%. Since then, that margin has only been growing larger and larger. Currently, those numbers are Mobile: 63% vs. Browser: 37%.
Having a website that isn't responsive or at least mobile friendly can hurt your traffic. I'm sure you've seen those websites floating around while you've been on your phone: sites where you have to pinch and zoom in to see the content.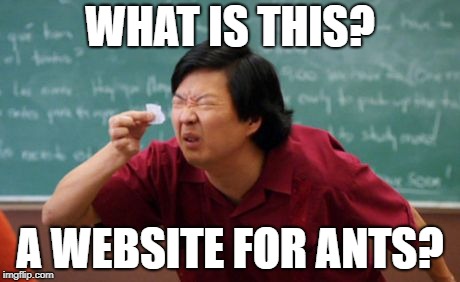 Not only do those websites offer a terrible user experience, but they have a high bounce rate as well–meaning users leave the site within a few seconds of being on it. No business owner wants that, right? You want users to enjoy the intricately created and elegantly designed website you poured your heart and soul into. No? Well, we do.
A big part of having a mobile-friendly/responsive site is having content that rearranges/resizes itself to fit within the screen's width and doesn't require scrolling left/right to view everything. Some examples of sites/apps that utilize this: Google, Facebook, Reddit, Instagram, (our site), and a whole lot more. The easier your site is to navigate, the better the user experience is, and happy visitors = lower bounce rates.
Another big reason to make the switch (if you haven't already) is because of how Google crawls and indexes sites. Google will visit the mobile version of the site first in order to rank it, meaning that if your site isn't mobile-optimized, it will score poorly. Here's a quote from Fan Zhang, a software developer working with Google via the Google Webmaster Central Blog:
To recap, our crawling, indexing, and ranking systems have typically used the desktop version of a page's content, which may cause issues for mobile searchers when that version is vastly different from the mobile version. Mobile-first indexing means that we'll use the mobile version of the page for indexing and ranking, to better help our – primarily mobile – users find what they're looking for.
So if you're wanting to show up at the top of Google searches, you should have a mobile-optimized website. As the saying goes, "The best place to hide a body is on the 2nd page of Google." <– Users tend to view only the first few results before either finding a site they deem worthy or refining their search.
Have questions? Contact us today, our office is right around the corner! Learn more here: https://oddballcreative.agency